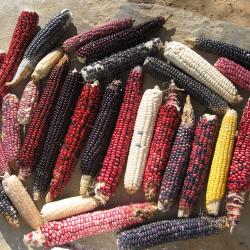 National Science Foundation Awards a COVID-19 RAPID Grant to IFKN
The Indigenous Foods Knowledges Network and researchers at the University of Arizona and the University of Colorado Boulder were awarded a NSF RAPID COVID-19 grant from the Office of Polar Programs (OPP-2035161; $197,535) to conduct a comparative landscape assessment of COVID-19 impacts on food access in Arctic and US Southwest Indigenous communities. A key component of this one-year project is a COVID-19 research advisory committee composed of members of IFKN who will work with the research team to co-develop the research design, process, and outputs to focus on concerns and questions of Indigenous Peoples from both regions about the impacts of COVID-19 on food security and sovereignty.
Established in 2018, the Indigenous Foods Knowledges Network (IFKN), a National Science Foundation (NSF) funded Research Coordination Network (OPP-1745499, ifkn.org), has created connections among Indigenous and allied leaders, citizens, and scholars focused on research and community capacity related to food sovereignty and resilience in the Arctic and US Southwest.
Althea Walker, Tribal Climate Science Liaison at the Southwest Climate Adaptation Science Center, an enrolled member of the Gila River Indian Community, provides leadership as a steering committee member of IFKN and a research advisor for the COVID-19 project. Walker says that she strongly believes in the importance of the COVID-19 project. "Understanding the impacts on Indigenous Southwest and Arctic food systems during a global pandemic directly correlates with understanding the impacts of our food systems during a crisis. The results of this project will better prepare us, our communities, and food systems during the unfolding of the climate crisis. It is up to us to prepare for these impacts and right now we are given the blueprint to understanding the strengths and weaknesses of our food systems."